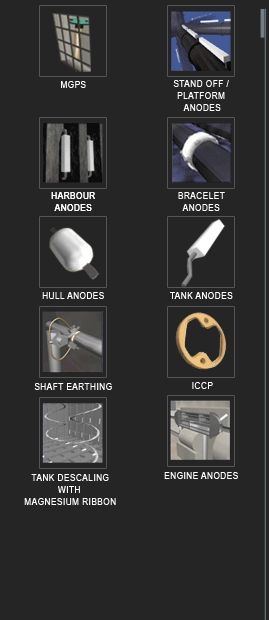 Magnesium Ribbon
You are here:
Home »
Magnesium Ribbon
Water ballast tanks are prone to a build up of scale. Magnesium Ribbon is a method of descaling and avoids the need for mechanical labour i.e. contractors, noise, dust and attack on the structure. Magnesium Ribbon can be easily distributed around a tank. When properly secured in a fully pressed up tank it will take approximately two weeks for the electrolytic process of the ribbon to effectively work on the scale.
Tank Descaling with Magnesium Ribbon
MCPS LTD can offer a solution to the high cost of descaling ship's ballast tanks by mechanical labour. The use of magnesium ribbon will give an incredibly clean surface by an electrolytic process without the need for contractors, and will avoid the hazards of noise, dust and an attack on the structure.
The ribbon is evenly distributed around the tank. Approximately one metre of ribbon provides enough current density to lift any scale from a steel area of three square metres.
The ribbon should naturally hang one to two metres away from the steelwork. Once both ends of all the magnesium ribbon are properly secured, either by clamps or welding, the tank should be fully pressed up with clean seawater and left for ten to fourteen days. Do no ballast in rivers or estuaries where the water is known to be brackish.
The ballast tank where the descaling process has taken place should be well ventilated, as the electrolytic process produces small quantities of Hydrogen gas. When re-entering the tank the company policy for entering confined spaces should be followed and hard hats should be worn as loose scale can fall from deck heads etc. After dscaling all the tanks should be pressure washed to remove loose scale. The white chalk deposit that appears is harmless and should be brushed off before painting.

Supplier Part Number : Mg Ribbon
Dimensions : 9.5mm x 19mm Tank Descaling Mg Ribbon
Insert : 3.2mm core